About the Journal
The Journal of PGR Pedagogic Practice is a co-created peer-reviewed journal organised by a multidisciplinary team of postgraduates for all postgraduates, and anyone interested in supporting their teaching practice. We provide a space for postgraduate researchers (PGRs) to share their unqiue perspectives on their teaching practice, their successes and their failures, and their experiences in higher education. We hope to offer comforting examples and thought-provoking reflections for the wider community of PGRs. To others, we hope they are indicative of the sort of novel pedagogies PGRs have cultivated and the challenges they faced in their teaching.
The Journal is published by Warwick PTC. 
Current Issue
Vol. 2 (2022): Virtual, physical or somewhere in between: Postgraduate pedagogies in the wake of the pandemic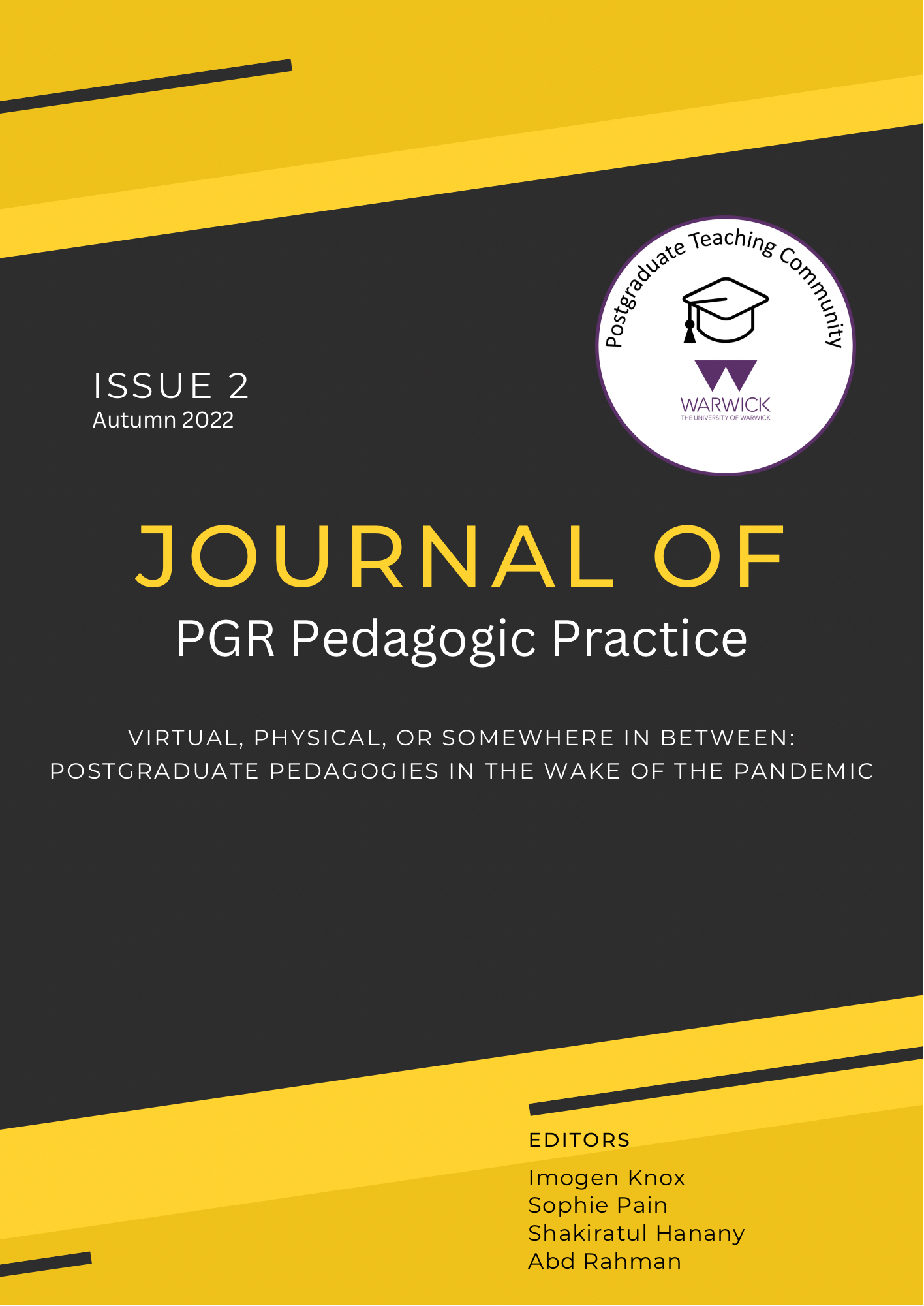 In the second issue of the Journal of PGR Pedagogic Practice, published for the academic year 2022-23, our PGR authors reflect on their experiences of teaching throughout the pandemic, and the lessons we can learn as we move into the post-pandemic world. Many of the articles in this issue address the challenges GTAs have been confronted with in their teaching and as a part of their wider identity as postgraduate researchers. Our authors address issues of engagement through online teaching, and the innovative methods they have adopted to facilitate learning. Others engage in the important work of decolonising the classroom, explore GTA identity and wellbeing, and draw on lessons from beyond the undergraduate classroom. Since the premier issue, interest in the JPPP has grown beyond our own institution, and we hope that future issues will continue to provide fresh perspectives on the wider experiences, interactions, and practices of PGR teachers within Higher Education.
View All Issues